DAILYMetrix Provides Daily Nutritional Needs & Extra Wellness Support in these vital areas:
Nutrient Absorption with Humic & Fulvic Read More
Restore & Maintain a Healthy pH Balance Read More
Powerful Antioxidants Read More
Phytonutrient Compounds Read More
Anti-Microbial & Immunity Support Read More
Metabolic & Blood Oxygenation Support Read More
Cellular Electrical Potential Enhancement Read More
Heart, Cardiovascular & Lymphatic Support Read More
Organ Cleanse & Detoxification Read More
Digestive System & Colon Support Read More
Musculoskeletal & Joint Support Read More
Anti-Aging & Vision Support Read More
Energy, Mental Clarity & Alertness Read More
Weight Management Read More
310 Ingredients Read More
A Full-Spectrum Nutritional Liquid Formula with a Daily Supply of Multivitamins, Minerals & Whole Food Complexes
to Support Optimal Wellness.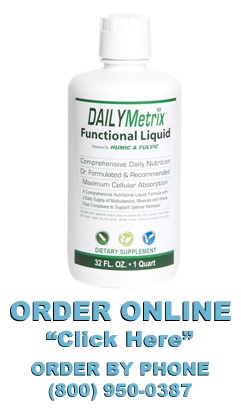 DAILYMetrix Functional Liquid, which is powered by HUMIC & FULVIC technology, supplies important nutrients that are not found in most diets. Even the "best diets" can't guarantee comprehensive nutritional coverage due to depleted soil on most farms around the world. Over processing and cost considerations also degrade food quality disallowing proper nourishment.
Simply said, supplementing with our formula will give you the peace of mind that you are not starving your body of the basic nutrients that were once abundant in our food supply. Our formula is superior to any other multi-vitamin, mineral nutritional supplement or health system on the market. It will provide a FULL-SPECTRUM, NON-GMO, Whole Food Wellness -
All In One Bottle.
The Physicians Desk Reference advises vitamins
are 98% absorbed in liquid form but only 20% in pill.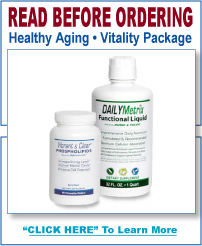 310 of the Earth's finest nutritional ingredients including all the Natural Vitamins, 74+ Natural Ionic Minerals, Amino Acids, Phytonutrients, Whole Foods, Digestive Enzymes, Fatty Acids, Herbal-Botanical Elements and More...